Delivery service
Delivery
1.    Frozen product orders above HK$499, Chilled product orders above $400 (after applying F-Dollar and discount) are eligible for our free delivery service. Orders below the above stated amounts are subjected to delivery surcharges, HK$50 for delivery
2.    Order cut off at 1pm (Frozen), 10am (Chilled) everyday, anything in stock will delivery to door on the 2nd or 3rd  day after the order day. *Note: Remote area delivery is not available.
3.    We are using New Havi ( Was SF express cold chain department ) Door-to-door Cold Chain Delivery (Frozen -15°C) / (Chilled 0~4°C). Delivery available on Monday to Sunday.
4.   Timeslot:
  (A) 09:00 – 13:00
  (B) 13:00 – 19:00

  (C) 09:00 – 19:00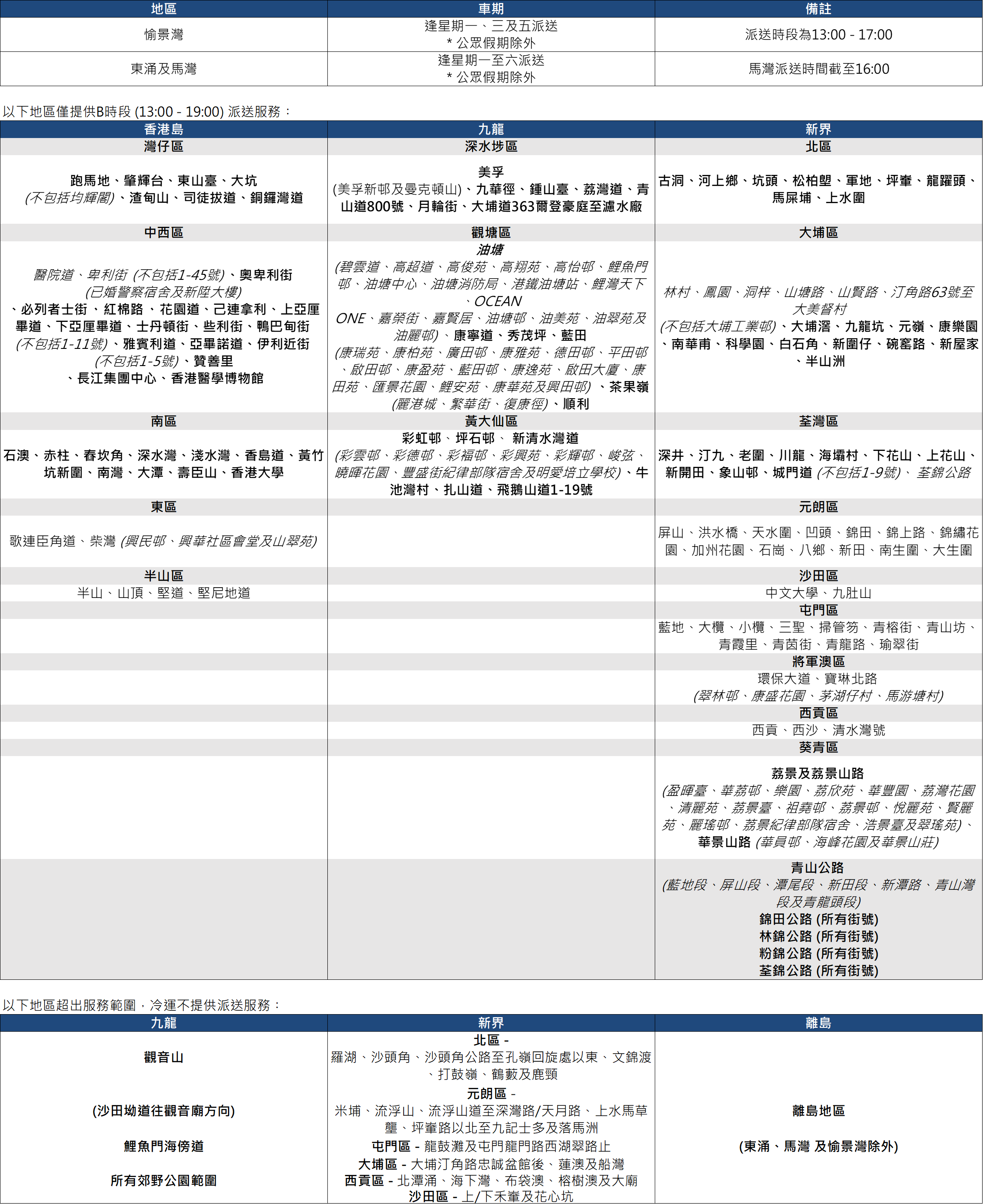 Cold Chain Delivery is not applicable to warehouses and remote areas. Please contact us via Customer Services Hotline for any inquiries.
5.    Delivery services shall delay when typhoon signal, a red or black rainstorm warning is hoisted; or such other weather conditions whereby delivery is considered unsafe. In this event, you will be contacted to re-schedule delivery time.
6.    We will deliver the products ordered by you to the address you give us for delivery at the time you make your order through our staff or a third party provider. You shall accept the products yourself (except where you have specifically instructed us to leave your delivery outside the door or at the concourse – missing delivery under such circumstances shall be at your own risk) when the products are delivered to the address you give us for delivery. You agree and accept that we are entitled, at our option, to charge you additional costs or cancel your order in the event of your failure to accept delivery for whatever reasons.
7.    It is the responsibility of you to inform Fmarket immediately before the delivery window starts of any change to your delivery address or preferred delivery time slot after placing order.
You will become the owner of the product(s) you have ordered when they have been delivered to you. Once product(s) has been delivered to you, they will be held at your own risk and we will not be liable for the loss or damage.